"The Sharptail Kennel"
is a premiere German Shorthaired Pointer and Versatile Pointing Dog Breeding & Training Facility"
-NAVHDA Registered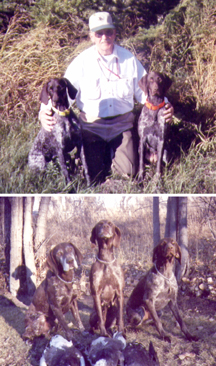 Welcome to one of North America's best GSP Kennels located in the Red River Valley of North Dakota.
Few kennels in North America have the Background, Training and Breeding program than Wally and the Sharptail Kennel Staff.
And no one else brings the experience of Sharptail Kennel to you better than Wally Wahl. Wally's years of training and breeding experience along with his association with the North American Versatile Hunting Dog Association (NAVHDA) as a Senior Judge and Breeder will assure, the finest GSP's you can find.
Our present kennel comprises of our four main GSP dogs. Annie, Ace, Nika and Ony.
Ace and Ony are available for Stud Services to approved bitches.
So call us Today, and experience the joy of a Sharptail Kennel German Shorthaired Pointer in your Family tomorrow!
Note!Ony passed the 2008 Invitational with a score of 192!
He is now &nbspVC Sharptail's Ony Ein Fleck
Sharptail Kennel is proud of this wonderful dog and all his potential!
Note!Annie passed the 2002 Invitational with a perfect score of 200!
She is now &nbspVC Sinfad's Andrea
Sharptail Kennel is proud to have this wonderful dog and all her potential!
Annie and Cord's previous breeding produced a NAVHDA Natural Ability Breeders Award when the puppies were just 5 months old. Annie and Ace's previous Litter also produced a NAVHDA Natural Ability Breeders Award! Sharptail Kennel just received a Natural Ability Breeders Award for the 2003 Annie x Ace Litter! This litter includes Nika and Kendra! Check out the Litters Available page for Photo images of the 2003 Annie / Ace Litter!
Sharptail Kennel wants you to watch for Future Litters! Sharptail Kennel has a male dog for sale from the breeding of Shooting Starr's Sharp Shooter x VC Sinfad's Andrea from the 6/28/06 litter. He is Sharptail's Dakota Early Bird. He is an excellent hunter and loves water. Contact us for more information. Check out the Litters Available page for images of this Litters!
Get your deposit down today; $100 will hold pup.

Sharptail Kennel
Wally and Roberta Wahl
1725 6th Avenue South
Fargo, ND &nbsp &nbsp 58103
(701) 235-3720 · Wing, ND (701) 943-2678

wwsharptail@i29.net