VC Sharptail's Ony Ein Fleck (Ony)
This page is for Sharptail Kennels, VC Sharptail's Ony Ein Fleck.
(Only one spot) call name "Ony".
It is our hope that Ony will become our next Jake and has become a VC for Sharptail Kennel in the future!
Available for stud to qualified females. Females must be 24 months old, hip certified and Brucellosis tested.
October 2006 ND Pheasant Opener.
Ony's First Limit!
All Birds shot over a Point and Retrieved to Hand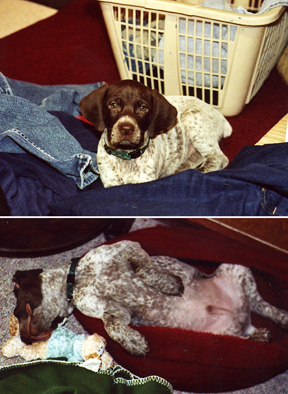 Ony Puppy Images.
Ony Helping out with Laundry!



NAVHDA NA: 112 pts., Prize I

NAVHDA UT: 198 pts. Prize I @ 20 mos.

NAVHDA Invitational: Pass 192 pts.

PennHip: Left-0.32, Rigth-0.40 @ 10 mos.